Introducing the most luxurious cargo trailer ever made.
Overview
It all began with a simple question - how artistic, comfortable and beautiful could a humble cargo trailer get?
Hundreds of design and build hours later, something unique emerged: a luxury cargo trailer conversion. With an interior that rivals a yacht or private jet, and features that match premium van conversions, this is not your average trailer.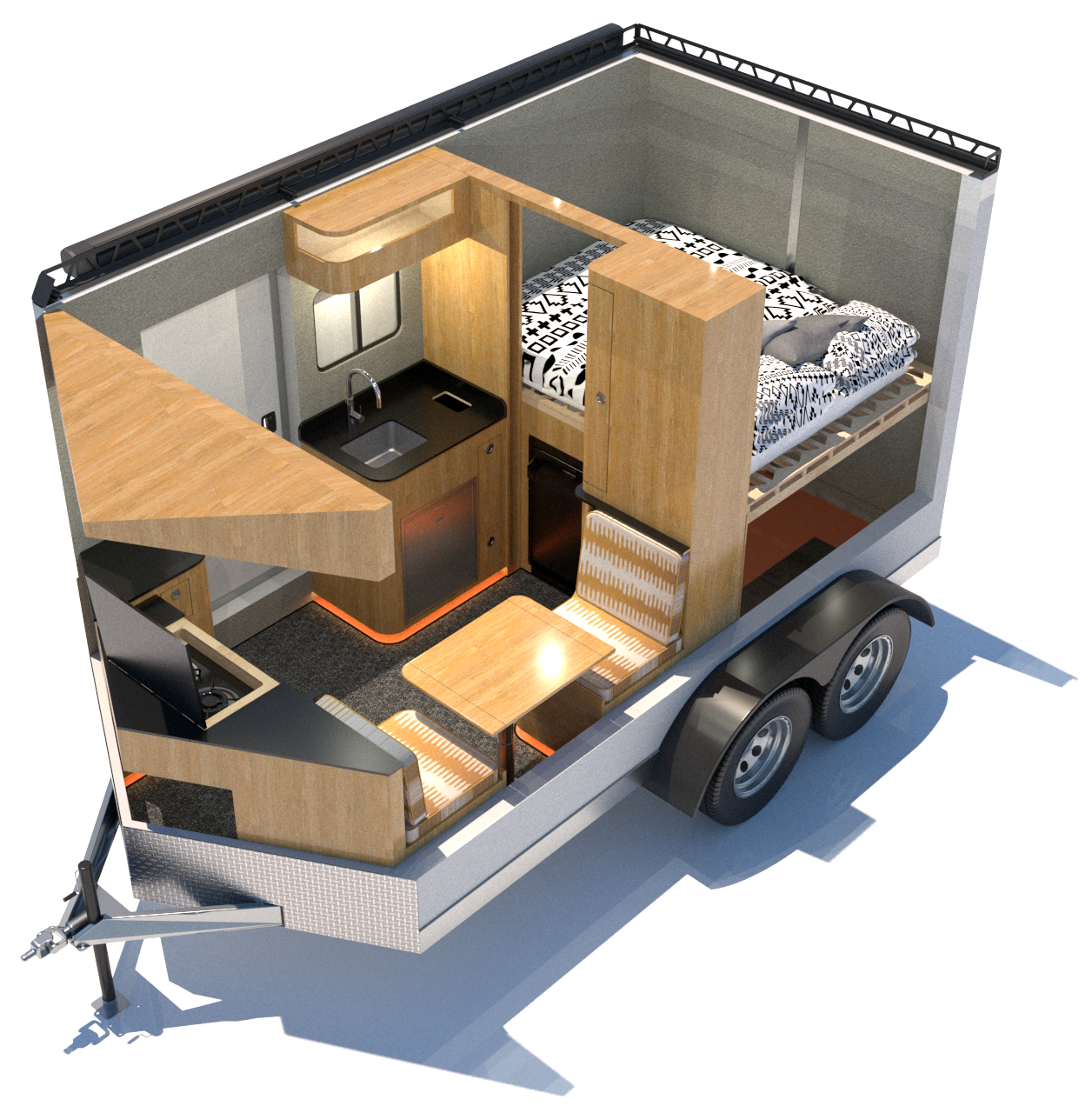 Convertible Dinette
An upholstered dinette with foldable leaves converts into a twin bed.
Perfect for a kid, but fits someone up to 6'4"!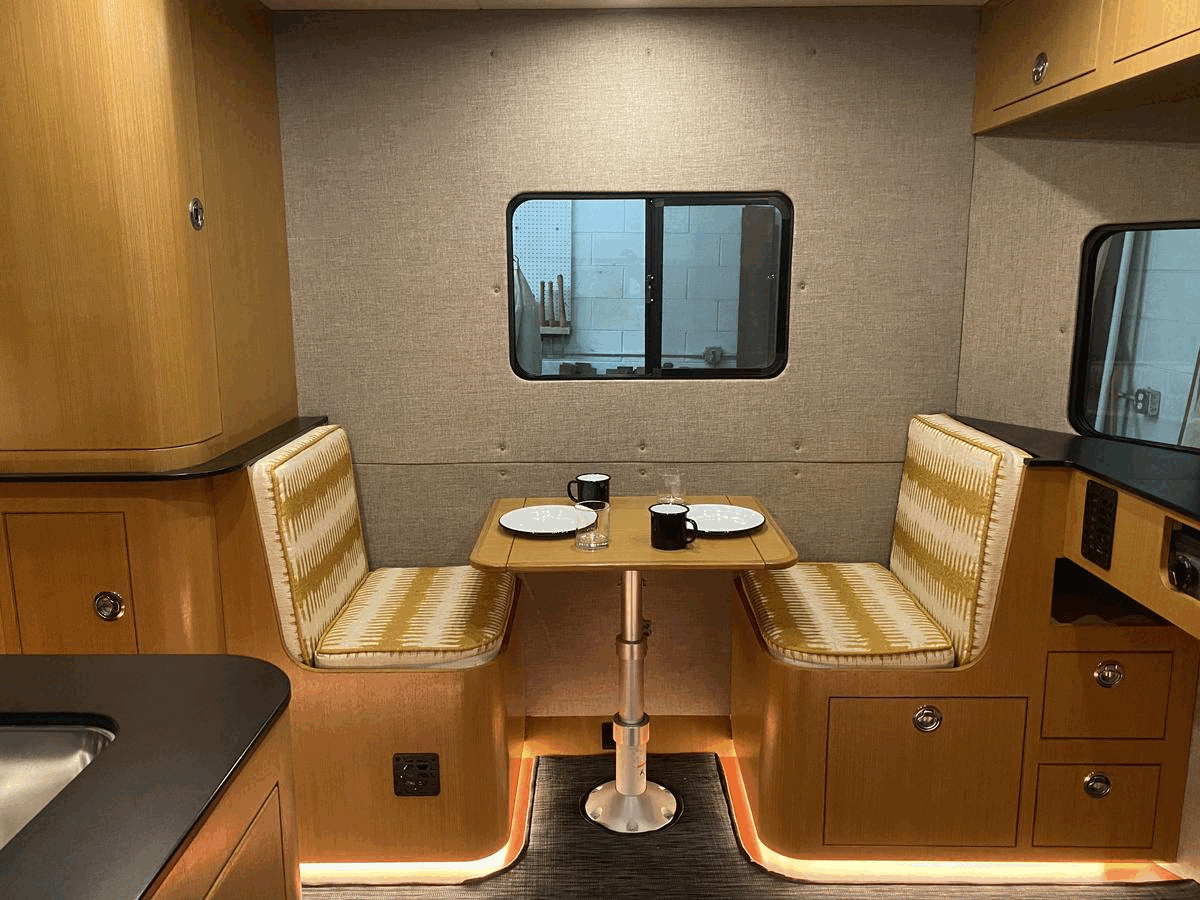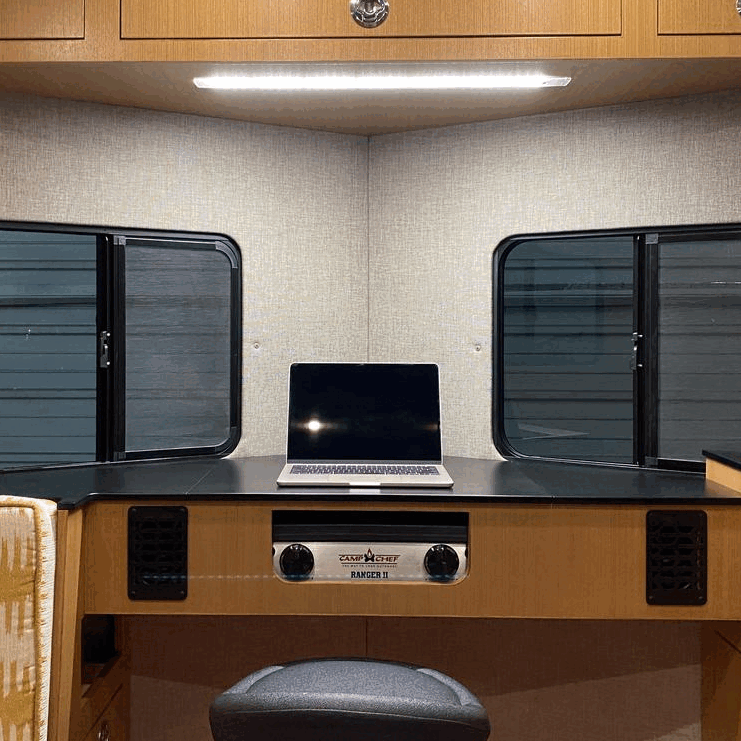 Convertible Kitchen
The stove has a fold down cover when you aren't using it, turning one of your kitchen countertops into a office workspace.
Convertible Shower
The Tetravan Folding Shower is the only shower that folds up when you are not using it. To use, fold it down and attach the included magnetic shower curtain - it takes under a minute to set up. Then enjoy a hot shower!
Our Design Principles

Spacious
The trailer feels roomy with 6'5" of headroom and 582 cubic ft. It's perfect for 2 and sleeps up to 3.
For comparison: the common Sprinter 144 has 372 cubic ft.

Comfort First
The cabin has been meticulously designed to be a beautiful, inviting and comfortable retreat.
Our goal: you return from your adventures to relax in style.

Craftsmanship
The gorgeous custom cabinetry throughout the interior is just the beginning. Just look at those curves!
Fun fact: Tetravan's founder once built cabinetry for corporate jets.
12'x7' ATC Raven Cargo Trailer with Barn Doors, 6.5" ceiling height
Floor, ceiling, walls, & doors insulated with 1" R5 rigid insulation foam
Custom powder coated aluminum roof rack
Fiamma F45 11.5 ft awning
6 EA exterior marine courtesy lights
1 EA flood light
Custom teak veneered cabinets with solid teak trim (fabricated by trained corporate jet cabinet maker)
Paperstone Slate Countertops
Custom queen size bed platform with airflow cutouts
Dining area converts to 6'4" secondary bed
Custom upholstered dish storage inserts with enamelware dish set
Detachable aluminum powdercoated bed ladder and dedicated ladder storage compartment
Stainless steel marine latches
Custom vent and speaker covers
Dimmable under-cabinet LED lighting
Dimmable overhead lighting
Flooring - Forbo Marmoleum Walton Berlin Red
Floor Mat - Custom Chilewich Ikat Deep Gray
Walls - Paul Brayton Designs Rhyme Castaway
Cushions - Custom Knoll Textiles box cushions
600W (200Wx3) Renogy rooftop solar panels
2000W Renogy inverter/charger
200Ah 12V Renogy Lithium Iron Phosphate Battery w/ Bluetooth
Racking location for second 200Ah battery if desired
Victron Energy MPPT 100/50 Solar Charge Controller
Power system mounted to 8020 Aluminum racking with polished plexiglass panels
Fridge - Isotherm Cruise 85 Clean Touch Stainless Fridge with Freezer
Coffee - Breville Nespresso Vertuo
Cooktop - Camp Chef Ranger 2 burner propane
Speakers - AudioEngine A2+ Speakers, S6 Subwoofer
Cooling - Nomadic Cooling 2000 12V Air Conditioner
Heat - Generic Diesel Heater
Shower - Tetravan Folding Shower 2.0 with Magnetic Curtain
Toilet - Dometic 2.6 Gallon portable Toilet
30 Gallon Internal Fresh Water Tank
25 Gallon Under Mount Gray Water Holding Tank
Shurflo Aqua King 2 Water Pump and Accumulator
Camplux Tankless Gas Water Heater, 2.64 GPM
Uponor PEX-A plumbing lines
Plumbing system mounted to 8020 Aluminum racking
The trailer can be pulled with any full size truck (ex: Ford F-150) or larger vehicle.
This is not an off-road trailer. While the trailer is short and high enough to handle a rugged dirt road, it is technically intended for paved road conditions.
Yes! The external branding can be easily removed for the buyer.
This is a one of a kind build. Tetravan currently does not have plans to produce more trailers.
This trailer was built by a single craftsman. With his extensive cabinetry, woodworking, and building experience, Julian, the founder of Tetravan, handcrafted and designed every inch of the trailer himself.
This is a new trailer. Besides several test excursions, it has not been used.
Yes! Please contact us to set up an appointment to visit the trailer in person at the Tetravan shop, an industrial warehouse located about 5 minutes from the Salt Lake City airport.
We'd love to answer it! Please contact us with any additional questions.
Products used in the trailer